Hello, there ambitious entrepreneurs!
A well aware entrepreneur very well knows that efficient marketing acts as gasoline necessary to keep a business running. Today, I am going to talk about the two crucial types of marketing which any entrepreneur can utilize to grow their business. These tips are actually pretty basic but yet, we tend to overlook them.
If I talk about myself, personally, I really regret not knowing about these when I started off with my online business as a branding strategist. I have said this before and I will say it again, consistency is the key. Practicing even the simplest of the steps with consistency can give you amazing results.
Read on to find about the two types of marketing which can boost your business miraculously:
1- Direct Sales Marketing:
As the name indicates, this is the type of marketing you implement to get direct sales. You can create a free incentive through a free checklist, PDF, a newsletter, a video or a webinar, or even a Facebook or Instagram live among many other things. You can then give a call to action towards the end. This will not only promote your brand but also boost your sales. Practically, it's the same as giving free samples in the malls to get people to buy the actual product. Practicing this simple step can give you mind blowing results.
2- Brand Building Marketing:
This is the kind of marketing which you practice to gain the trust of your audience and to be their go-to expert. It can help you create a big name out there in the industry and also build a much bigger following. It could be something as simple as consistently posting on social media. All you need is a good and practical plan. The most efficient approach will be to solve the problems of your audience and build a significant place in their hearts. You can utilize YouTube, blog posts, podcasts, newsletters, etc. for this purpose. All you need to do is to build a genuine and lasting connection with your audience.
Now the question that arises is – what type of marketing will work the best for you? Well, don't you worry, I have got your back. It partially depends on the following two factors:
Where your business stands at this point
Your own preferences
When I started off in this field, I went crazy with direct sales marketing and totally ignored the brand building marketing. This was mostly because of me being busy with client work. However, later I regretted my ignorance in this respect because once I was done with the projects, I wasn't receiving any more work later on.
So, the key takeaway is that you should always take some time to analyze your business and build a plan. You cannot succeed with only one kind of marketing, you will need to employ a thoughtful combination of both. It is of utmost importance to utilize both, but the main trick lies in making a plan which works the best for your brand.
So guys, let me know in the comments below if this post was of any help to you. Also, feel free about letting me know what you want me to talk about in the next post. See y' all soon.
Until then, make your brand work 😉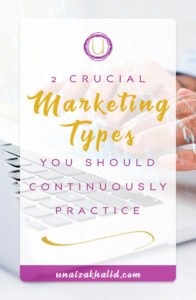 Get your Hands on the Ultimate 1 STEP MARKETING PLAN