As most of you already know, I run my business solely online. All the clients I work for, I have met them online or got them through referrals. That too with absolutely NO freelancing platform or job board!!!
It surely isn't a cakewalk to get clients for your business online and I have spent a lot of time building my credibility for people to notice my work, as there are so many options and people to choose from for getting a particular work done! It is overwhelming and confusing at times, but one should not lose heart and stick to doing all that they can, to maintain their presence and it would definitely get clients to notice your work and approach you for the same.
BUT through all this hectic process, I have really found out an easy procedure that anyone can follow to gain amazing clients online!!
So let's dive into my top notch tricks of getting clients on a monthly basis from the free Facebook groups!
1. Find the groups where there are people you would like to work with.
Do your homework and join the various business groups on Facebook. Some may also have a few guidelines that they work around, so be sure to read all about the group guidelines before you start posting about the nature of your work. One key point is to decide whether the people of the group are the kind of people you would want to work with.
For instance, I feel that if unethical practices are in play for a business or if the person I'm working with isn't humble and is rude to his colleagues and/or subordinates, I would not be very comfortable working with her/him.
But how do we really find nature of people in the group out?
The best way is to know the leader or admin of the group, and get to know their ideology. This helps, as the leader of the group must have attracted people with similar values and personalities. Knowing the leader would definitely help you filter out the groups you could work with or not.
2. Play Around with a Variety of Posts and Don't Stick to one Kind
Once you have finalized the groups, create a variety of posts for the people to engage with. Different posts have different engagement potential and it also differs with the nature of your business and the type of service you have to offer.
Luckily, I have some amazing posts ideas that works like a charm:
Introductory Post – Talk about yourself and what you are passionate about. Feel free to be a little silly at times and talk about your insecurities as well. Such posts are relatable for the existing members and they would engage with you on a personal level.
Question Post – Address the members of the group and ask questions for your research purposes. The motive of this post is engagement and hence, the question should be generic and relatable for people to be able to provide answers. Example; you could ask at what time of the day do the members generally check their respective emails. Once they have answered, you could use the information to schedule your mailers at the time when most of them check their inbox!
Tips Post – Answer general queries that people may have regarding your services/products in these posts. For instance, How to raise conversion from your website or 5 steps to ace the SEO game organically.
Sales Post – These posts focus on letting the members know that you are accepting new clients or are open for discussion about a prospective venture. Please keep in mind that a few groups might have specific days as to when you could put up sales posts, so comply with that as well!
Offer Post – These posts act as a pull-strategy for the members and would help you in getting clients in the long run. You could have basic offers for doing the website audit for free or by charging a nominal fee. Freebies attract a lot of people and you could earn people's trust by sharing PDF's for simple case studies and tips for branding, etc.
3. Engagement is the key!
Once you have taken the aforementioned steps, you would have a general idea about the members in the various groups and also about the platform in general. Connect with the people whose ideas and values you resonate with. Add such people to your Facebook profile and start conversing with them.
Do not hesitate in taking the first step and send a message to them letting them know how you relate to what they stand for and talk about the values you both carry in common. Question them if you have doubts or if you need clarifications and get the conversation going. Once people take notice of these activities, it helps in building a credible brand for people to trust and come back to once they are ready to take things further in their own businesses.
Be patient, as the turnaround time for different people and different businesses may differ. All you need to do, is portray in front of the masses that you can provide them services which others may or may not be able to. There have been instances where people have spoken to me about some project and then taken two years to get back to me for taking things further! But the good news is that they DID INVEST IN ME and another is that a few folks are ready NOW and will start right away.
4. Conversations Make Things Happen
Maintain an online presence and keep the conversations happening in the groups as the main idea is to network on a personal level and to show that you are the expert that people need when it comes to what you do, be it branding or designing or coaching or anything else!
To wrap things up, I would just like to say that this strategy has been tried and tested and has proved successful for myself and also a lot of other businesses and persons who have done it. I hope it helps you grow your business and take it to greater heights!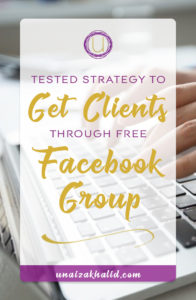 GET YOUR HANDS ON 20 WEBSITE BRANDING TIPS TO SLAY THE CONVERSION GAME