Hello young entrepreneurs!
Today, I am going to talk about something I have been very excited to share for SO long!
The other day when I was watching kung fu panda, I stumbled upon the idea of this post. I know you must be thinking what does Kung Fu Panda have to do with branding?
Crazy, right?
Keep on reading to find out. Let's dig in to 7 things I learnt about branding from Kung Fu Panda. Hope you are just as excited to read on as I am to share it with you!
So today's strategies will be easy peasy ones that you don't have to put a lot of effort and money in to gain results.
When you work smarter, you don't have to work harder 😉 So Let's get started!
1- There's No Secret Ingredient:
Someone must have been living under a rock if they haven't heard this dialogue, right? 😉 Just like there is no secret ingredient of a happy life, there's no secret ingredient in the recipe of successful branding as well. If my branding proved to be successful for my business, it does not mean that it would work for your business as well. So you need to be very specific in your branding according to your own business, your own vision, your own values and your own personality for it to work! There's no magic process, we all have to go through a lot of experimentation. Honestly, there are no cheat sheets when it comes to branding. You have to go through a process to find your niche and it doesn't have to be a struggle – just make it fun. 🙂
2- Be Different:
The shortest way of getting to the top is to be different. Just like Kung fu panda was different from the furious fives, you have to be different from the rest to make your mark in the branding world.
Just be yourself and create a plan which works the best for your business. The goal is to stand out and you can never achieve it if you keep following the repetitive trends of the branding world. All you need to do is to own your uniqueness and shine with it. Don't be afraid to show your awesomeness to the world.
3- Utilize Words and Phrases to Spread the Message of your Brand:
If you've seen the movie, you must remember his 'AWESOME!'. Utilize words and phrases to create your brand identity. There are certain words that will be specifically associated with your brand after a while, your followers will start recognizing you through these words or phrases. It helps you make an impression on people's minds and become unforgettable in a short period of time.
4- Attract the Crowd with your Imperfection:
Kung Fu Panda was an ordinary villager making all the ordinary mistakes and that's the reasons why the villagers adored him. He's extraordinary in his ordinariness. You do that too!
We see a lot of perfection around us these days (social media of course :/). A little imperfection will make you more human and your followers relate to you on a personal level.
5- Looks should Go Hand in Hand with Personality:
Kung Fu Panda is a nice and cheerful looking character who loves helping others. If his looks would have been intimidating or bold or strong or anything unlike his personality, his character wouldn't make much sense. Similarly, your brand messaging should go hand in hand with the nature and style of your business. If your brand's message is bubbly and cheerful but you have a very serious and authoritative logo and cover photo, your brand wouldn't come off as very reliable. If your message is fun, make your branding tools fun as well. On the other hand, if your message is serious and fancy, your branding tools should be in sync with it. Only bring that part of your personality into your branding, that complements your business.
6- Be yourself:
The Kung Fu Panda movie series constantly tells you to be yourself and I couldn't emphasise enough on it. There's nothing wrong with being inspired by someone but for bringing that into your business, do mold it according to your own personality. Be the best version of yourself and be confident in who you are. There are amazing brands who are not confident enough to convey their message. Do you think their branding or even business works?
Believe in yourself enough to share your message with the world. Own your personality and show it to the world. Never be ashamed of the awesome person that you know you already are.
7- Grow and Evolve:
If we look at the evolving of Kung Fu Panda over the series, we witness his growth. The same is the case with branding. Allow yourself to grow at your own pace. Don't be stagnant in your branding. Always be ready to adapt and embrace the changes in business choices. Be patient enough to evolve with time.
To wrap this Up:
I would conclude my post with the most important message: don't forget to have fun in your branding journey! I hope you enjoyed this post as much as I did writing it. Let me know how you liked it or if there is something you'd like to add in the comments below.
Make your branding work 😉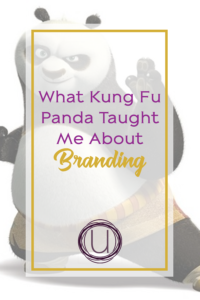 GET YOUR HANDS ON 20 WEBSITE BRANDING TIPS TO SLAY THE CONVERSION GAME